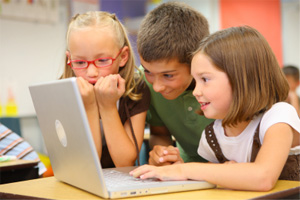 Welcome to Protection-Mineurs.com whose objective is to increase parents awareness of child protection on the Internet.
The Internet is an amazing information, communication and liberty tool. By virtue of its cultural dimension and varied uses, you cannot possibly deprive your children of this precious tool in the modern world.
Nonetheless, you must take certain necessary precautions concerning its use since the Internet also has its disadvantages. Actually, the risks related to a too naïve use of the Web may prove very harmful since your children might access material that is prejudicial (violence, pornography…) or contrary to law (incitement to racial hatred, drug use...)
Therefore, our site Protection-Mineurs.com is aimed at raising your awareness of the potential risks your children are exposed to while using the Web, but also at providing you with the best methods to protect yourself against such threats.
It is your duty as a parent to make your computer a safe place for your children. Keep in mind that they need guidance and support in their e-learning and that communication remains the best prevention!